Sunflower Season
June 7, 2022
Over seventy historical romances! All royalties will be donated to humanitarian relief in Ukraine.
Inside Story & Bonus Features
Annabelle Anders and Janna MacGregor wanted to do something to help the people in Ukraine, and they dreamed up this anthology. They invited over seventy other historical romance authors to take part. Foreverafter Romance Designs donated the cover design, with an image donated by Period Images. The labor to create the ebook was donated. All the proceeds from this limited time edition will go to charities targeted at Ukraine.
Because there are so many authors who wanted to participate, they asked that we send in short stories instead of full books. I chose Written in My Heart, a short story I wrote years ago about a soldier away at war, and the girl at home who's written him a letter every week of his absence, praying he comes home safe. Of course their story ends happily, unlike so many in the real world.
War is terrible. Slava Ukraini.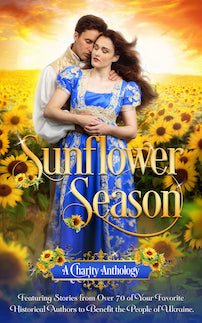 Annabelle Anders, Tammy Andresen, Golden Angel, Sydney Jane Baily, Celeste Barclay, Kate Bateman, Lenora Bell, Amy Rose Bennett, Bethany Bennett, Natasha Blackthorne, Bianca Blythe, Diana Bold, Cheryl Bolen, Ava Bond, Meredith Bond, Sadie Bosque, Terri Brisbin, Dawn Brower, Christie Caldwell, Anna Campbell, Glynnis Campbell, Jane Charles, Jessica A. Clements, Gina Conkle, Maggie Dallen, Michele Pollock Dalton, Emmanuelle de Maupassant, Robyn DeHart, Eva Devon, Christine Donovan, Fenna Edgewood, Bronwen Evans, Merry Farmer, Tamara Gill, Virginia Heath, Amalie Howard, Piper Huguley, Jenna Jaxon, Sabrina Jeffries, Eliza Knight, Jude Knight, Wendy LaCapra, Charlie Lane, Kathryn Le Veque, Caroline Lee, Caroline Linden, Nicole Locke, Carrie Lomax, Janna MacGregor, Amanda Mariel, Deb Marlowe, Madeline Martin, Cara Maxwell, Hildie McQueen, Cecelia Mecca, Erica Monroe, Samara Parish, Rebecca Paula, Rose Pearson, Eve Pendle, Sawyer Quinn, Amy Quinton, Erica Ridley, Lauren Royal, Royaline Sing, Rachel Ann Smith, Lauren Smith, Sandra Sookoo, Anna St. Claire, Christine Sterling, Mariah Stone, Ava Stone, Tracy Sumner, Kristin Vayden, Tabetha Waite, Caroline Warfield, Lana Williams, Nancy Yeager, Lori Ann Bailey